Alerts
Select "Add Alert" from main page
---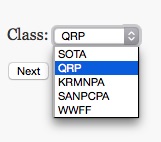 An Alert is notice of upcoming activation.
The Alert will alert other users as to this proposed activity which allows chasers to plan time as well as allows activators to plan.
Activators can also place their intended activations on the relevant Yahoo group.
Select the CLASS of activity QRP, National Park or Conservation Area from the drop down box.
Use SOTAWatch SOTAwatch to add a SOTA alert.
then next....
---
You will be presented with the page to collect activation details,

Click in the date box to have a dialog box present then select the date of the activation. The date of activation is in DD-MM-YYYY format.

Due to the nature of a park activation, there are broad time frames defined. Select the times suitable for the activation or enter an exact time you expect to be on air.
Then continue to enter the data required to complete the Alert;
Activating Callsign:Enter the callsign of the activator.
Site:Select the site from drop down box.
Mode:Select from drop down box.
Frequency:Enter the frequency the activation intends to use in Mhz.
Comments: 60 characters of additional information.
then select Process to finish.
---