View Current Activity
The site is navigated via the tabs at top of each page.

The 'VK Spots' tab shows a consolidated view of all current activity, SOTA, QRP and NP. You can filter by the activity by selecting another tab.
VK Spots - Consolidated view of current activity.
VK Alerts - Shows upcoming activity.
VK History - Shows previous activity.
VK QRP - Shows QRP class of activity.
KRMNPA - Shows KRMNPA class of activity.
SANPCPA - Shows SANPCPA class of activity.
VK WWFF - Shows WWFF class of activity.
VK Summits - Shows VK Summit information.
Data Tables - Shows the Data used.
Help - Jumps to the help pages.
---
Spots
The first view presented when accessing the site is the default view window.
This shows the current activations or spots.
You do not require an active account nor do you need to be logged in to see current information
The SOTA spots are sourced from the SotaWatch RSS feed.
The VK spots are processed to identify any park activity and additional information will be displayed where relevant.

Spots for current activity can be added by registered users. See How to add a Spot or How to send a SMS Spot.
---
Alerts
Alerts are upcoming activations.

Alerts for upcoming activity can be added by registered users. See How to place a Alert.
---
SOTA Blogs
SOTA Blog list. This is a list of SOTA blogs that have activity within the last 4 weeks.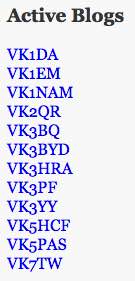 The site has a database of known blogs related to SOTA and Park activity. Each night they are checked for activity and this view updated.
To be added to removed from this database please email ParksnPeaks support with your details.
---
RSS Feed
A RSS feed of filtered SOTA spots and National park Activity is also available.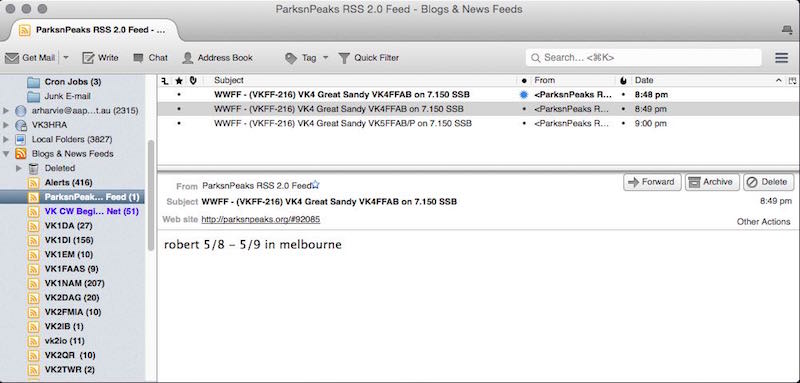 This information can be used to feed external applications or as a RSS feed in your email client.
---